Image: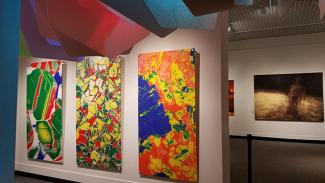 The Museum of Arts and Sciences located in Macon, Georgia is currently hosting an exhibit titled, "Al2 Si2 O5 (OH)4 " also known as Kaolinite through October 3, 2019.
Dr. Paul Schroeder, of the University of Georgia Department of Geology, and Dr. Eric Formo, of the Georgia Electron Microscopy Lab, received a special acknowledgement for providing insight and history about Kaolinite and for the SEM scans presented in the gallery.
For more information, please visit website of the The Museum of Arts and Sciences at https://www.masmacon.org/.